I'm very quick to share the latest beauty products I'm using but I rarely talk about my favorite makeup brushes. I've rotated through quite a few makeup brushes but if there's anything I learned from testing so many beauty tools it's this: invest in brushes you'll use often and save on everything else.
Before I dive into my favorite makeup brushes for the eyes and face, I'd like to share how I store them. I keep all my makeup brushes in a ceramic marble cylinder standing in an upright position. You're supposed to fill the jar with coffee beans or pebbles so the brush heads don't touch each other but real talk— I tend to overstuff my jar as I accumulate more brushes.
As I went through my stash I realized three brands I purchase from the most: EcoTools, Sigma and ColourPop.
If you're a makeup beginner, then you'll love EcoTools. These makeup brushes are very affordable (you can pick them up at any drugstore) and they always offer a bevy of essential starter kits that usually come with a tutorial on where to use and apply. I can always rely on EcoTools for creating beautiful eye makeup looks. I also prefer to travel with these brushes over others for the portability and ease of use. I own a ridiculous amount of EcoTools eye makeup brushes but if I were to narrow down to my favorites for everyday use it would be the defined and angled crease brushes, an accent shadow (perfect for highlighting under the brow and inner corner) and a liner brush (to smudge color on the lower lash line).
I discovered Sigma from watching countless beauty YouTubers rave about the brand's brushes. In terms of price point, it is a little higher (typically between $12-$18) but totally worth every penny. The Sigma E40 is perhaps my most used eye makeup brush—I use it to blend any harsh lines. The Sigma E25 is also a staple blending brush. It's smaller than the E40 and more precise for blending transition shades. The Sigma E20 Short Shader brush is my go-to for packing color on my lid. If I'm using a glitter shadow, I'll spritz my Makeup Fixing Mist on the brush first.
ColourPop brushes are probably the newest tools in my beauty arsenal. After purchasing a number of Super Shock Shadows and pressed powder palettes, I figured their brushes would be the best to pair with its products. So far, they haven't disappointed. I use the small tapered brush to blend pigments into my crease and outer-V of my eye. The flat small shader brush comes in handy when I'm applying Super Shock Shadows and want to pack on color.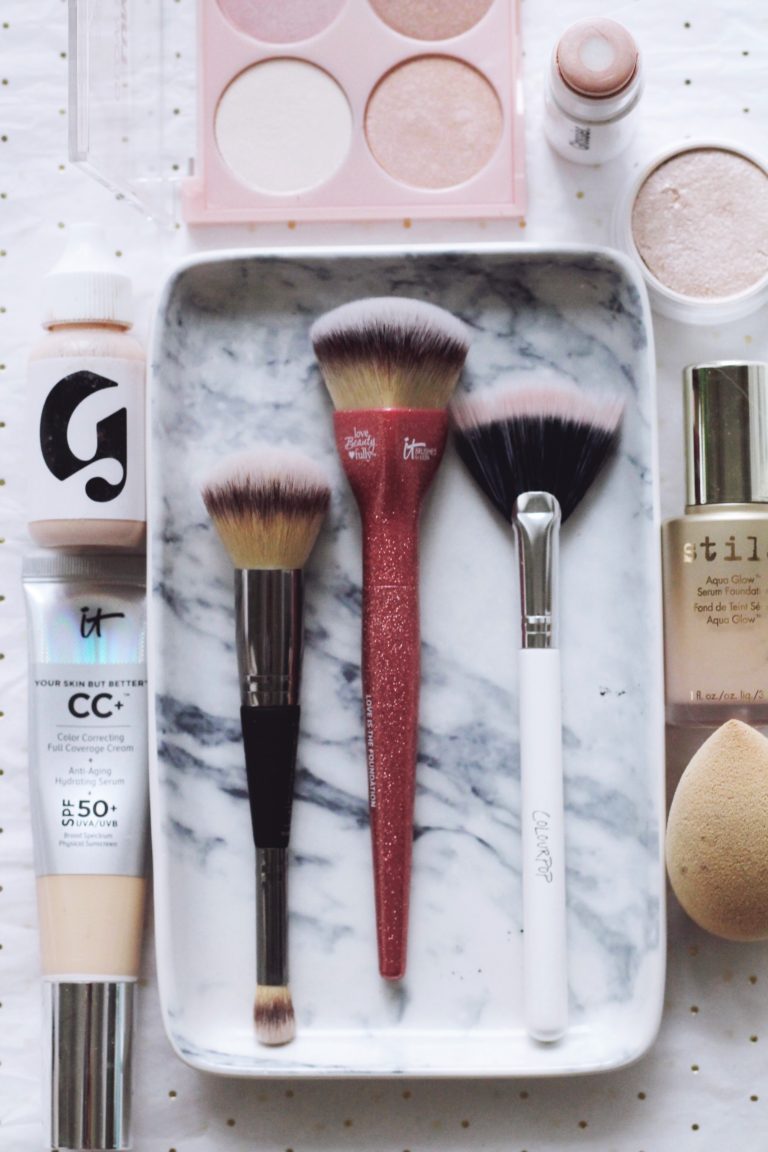 Most days I prefer to wear a tinted moisturizer and I usually apply with my fingers or nude BeautyBlender sponge. If I'm applying foundation, I love using IT Cosmetics brushes. This double-ended brush works great with foundation and concealer. For setting powder, I like to use this large fluffy brush from ColourPop.
To contour, I use a Marc Jacobs Angled Blush Brush (this is a "high end" brush and I use it daily) and pinch the brush hairs together before I swipe my bronzer so I have more of a precise application to the hollows of my cheeks. I've been using this blush brush from EcoTools and I lightly pat onto the apples of my cheeks while sweeping toward my hairline.
I usually opt for creamy highlighters; however, this ColourPop Fan Brush is perfect for blending powder formulas. I also use this when contouring the sides of my nose.

What are your favorite makeup brushes in your beauty arsenal? Let me know in the comments!